OpenXenManager cleared the NEW queue and is now available in the archive.
What it is:
rrs@champaran:~$ apt-cache show openxenmanager Package: openxenmanagerVersion: 0.r80+dfsg-1Installed-Size: 3051Maintainer: Ritesh Raj Sarraf rrs@debian.orgArchitecture: allDepends: pythonDescription: full-featured graphical management tool for xen using xenapi OpenXenManager is a graphical interface to manage XenServer / Xen Cloud Platform (XCP) hosts through the network . OpenXenManager is an open-source multiplatform clone of XenCenter (Citrix)Homepage: http://sourceforge.net/projects/openxenmanager/Section: adminPriority: extraFilename: pool/main/o/openxenmanager/openxenmanager_0.r80+dfsg- 1_all.debSize: 396322MD5sum: 64df482dac6b99bc3403bcc0740f8718SHA1: 9c746f524c3c29eb88de7ae702c96cbca162f577SHA256: 454641eb26c57ba35ad573a3a8493ac6dbd82f7920c8b926049ef892724147e0
It is written purely in Python so should work at most of the places. The current consumer of OpenXenManager are users who have a Citrix XenServer platfrom running as a hypervisor. Soon, once XCP efforts are completed for Debian, OpenXenManager will also be able to manage Debian Xen Hypervisor installations using this graphical tool.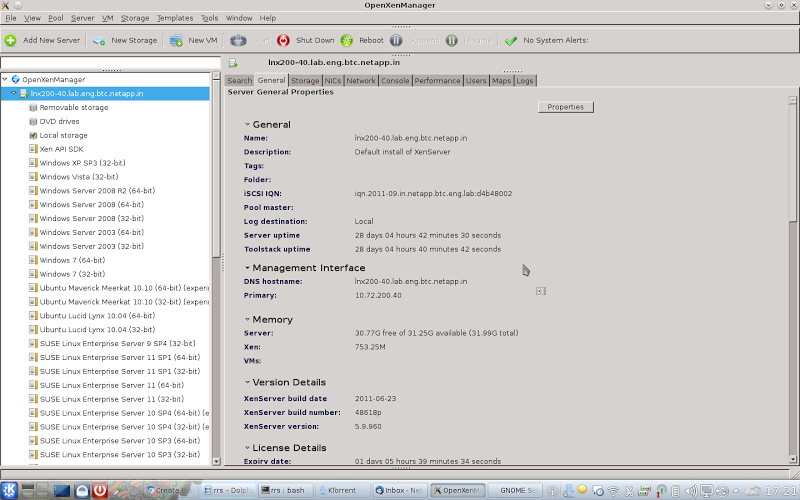 ---