Narada Curse Lord Vishnu–Part II
Posted by VIBHOR MAHAJAN on [MAY 14, 2012](https://vibhormahajan.wordpress.com/2012/05/14/narada-curse-lord- vishnupart-ii/)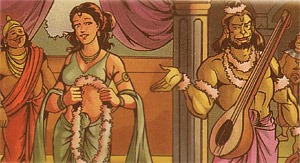 As Narada moved on from Lord Vishnu's adobe, he suddenly saw a beautiful city like he had never seen before. Curiously he entered the city and asked a passerby, "Who is the ruler of this big and charming city?"
"It belongs to the glorious King Sheelanidhi"– replied the passerby.
Hearing that Narada had come to visit him, the king came out to receive him and welcomed him. Just then a beautiful girl came and bowed before Narada. The beauty of the girl took Narada. She was King's daughter Shrimati. A Swayamvara was being planned for her.
Narada said to the king – "Your daughter is the incarnation of goddess Lakshmi. No less than Hari (Lord Vishnu) in glory and power shall be her husband."
Narada was so taken by the princess that he wished to make her his wife. Narada prayed fervently to Lord Vishnu. At last when Lord Vishnu appeared before him Narada requested, "Lord let my face resemble Hari's.". Lord Vishnu said – "So be it. You shall certainly have the face of the Hari,"
When Narada made his request he had forgotten that the word Hari also meant "A Monkey" and he could not see his own face. Narada reached the court of that King full of confidence sure of his victory. The princess entered the hall of marriage with a flower garland in hand. Narada was sure that the princess would choose him as the companion of life. But to his utter dismay, the princess did not even look twice at his face. As Shrimati passed him Narada could not resist, he stood up and said, "You must be looking for me beautiful one. Here I am." Rest of the crowd burst into laughter and said, "For you? Monkey face… a very handsome one, no doubt, but still a monkey-face?
Narada was left wondering, "Do I really have the face of a monkey?"
Suddenly Lord Vishnu also appeared in the court and before Narada could ask him why he had got a monkey face the princess put the garland around the neck of Lord Vishnu.
Narada filled with rage, cursed Vishnu proclaiming that Vishnu, during his sojourn on earth, would have to bear the pain of his wife's forcible separation from him and only a monkey would be able to relieve him of his sufferings.
Later Narada asked – "Why he got monkey's face! Why?" , to which Lord Vishnu replied, "My dear Narada you are a scholar of Sanskrit. Don't you know, Hari also means monkey? You didn't specify which Hari you meant." Narada asked angrily, "Am Istuck with this face forever?" Vishnu calmly replied, "Narada, calm down, and lookaround you."
Narada was dumb struck when he looked around for everything had vanished. Vishnu laughed and replied, "There was no city, no king, no Swayamvara.Your monkey face and all this was an illusory creation of mine to humble your pride; because you thought you were above temptation."
Narada gratefully prostrated before Vishnu and said, "I am grateful to you, my lord! You have opened my eyes."
In his next incarnation, that is his seventh incarnation, Lord Vishnu was born as Lord RamChandra and because of this curse Lord Hanuman helped him in Ramayana. Lord Hanuman was a Rudraroop that is incarnation of Lord Shiva.
---
See also