Wrestling (WWE) is entertaining. The way the ww[ef] superstars (Especially the ones like Undertaker, Triple H) are presented is fun to watch. Or the kind of high flying maveuveurs the wwf superstars are able to perform, it really is super cool. The only catch is - it is not a sport. The feuds are all pre- defined to juicen things up.
I recently came to know of UFC. I hope some day they start airing it in my part of the world. I'm still getting acquianted to MMA, but it really is an awesome sport. This is one forum which does show size does not matter. Was watching Royce Gracie's matches from UFC 4. Awesome matches clearly showing the skill with which one can beat any size or power. The final was in between a pro-jiu jitsu vs pro-wrestler. Gracie won it but was given a tough fight by the wrestler.
That brings me to EA Sports MMA.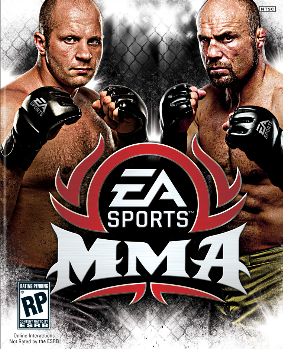 I downloaded this demo some time back but never played it. Only after the recent interest in MMA I looked back at this demo. The demo was good enought to convince for the full version. The gameplay primarily comes in 2 modes: 1 x 1 fighter mode and a Career Mode.
If you start with the 1x1 fighter mode, you'll very soon be beaten out. Just like The Fight, this game does need some practising and getting a hang of the game controls. Uncommon - Attacks are triggered by the R1 key, with L3 as the modifier for kicks.
In career mode, you can create your own custom character and start from scratch to becoming a fighter. You start off with the basics, learn the standards tactics on how to Clinch , Take Down , Block and Submit your opponent. With these skills learnt, the game starts to becoming a real fun. But the real gem about the game is in the Stamina. The developers ensured that this is not just another " who's the better button masher" game. You need to be careful to not run out of stamina. The stamina is the biggest key to winning in this game, just like in real life fighting. If you run out of stamina, you can't even submit your opponent even if you have a full body mount. To beat down the tough fighters you will need to master the key combinations with great speed. Be fast enough to **Jab + Jab
Hook + Side Kick,** all of this with minimal stamina spent.
Overall, a great game to have if you like Mixed Martial Arts.
---
See also