I received my ZippoBlu Butane Gas Lighter yesterday. And today, I'm using it.
I had ordered it through eBay. Initially I was worried about the delivery of the item as it might get damaged during shipping to India. But the seller (123khaly)is awesome. He did a good packing before the shipping and the lighter reached safely to me. Keep in mind that the gas cannot be shipped because it is flammable. These are international regulations. So I inquired with Zippo India if they have imported Butane Gas or not. Unfortunately they haven't. This got me disappointed. It was like I have a Plasma TV with no Cable connection. So I moved down to M.G Road, Bangalore and was able to find Chinese Butane Gas. While Zippo doesn't recommend non-Zippo Butane, I didn't have a choice.
But he lighter is awesome. It has some of the innovative Zippo technologies. And also the infamous Zippo Click sound. The Blue Flame is awesome.
This lighter is a must-have..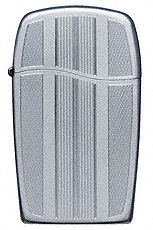 ---